More than just a fashion capital, Seoul is a lively city filled with activities ranging from cultural tours to delicious Korean cuisine and obviously, shopping! With endless possibilities but only a limited time, how can you plan an itinerary that allows you to fully indulge in the best Korea has to offer? Relax, simply follow our guide for the 20 awesome things to do on your first trip to Seoul.
1. Explore the traditional Bukchon Hanok Village
Bukchon Hanok Village
One of Seoul's most photogenic spots, Bukchon Hanok Village is located between Gyeongbokgung Palace and Changdeokgung Palace. Don't be surprised to spot people still living in these traditional Korean houses that date back to the Korean kingdom. Another of the great sights Bukchon Hanok Village has to offer is a glimpse of the integration of traditional Korean houses from the village with modern architecture from the city, where old really does meet new.
How to get there : Seoul Subway Line 3, Anguk Station, Exit 2
Tip : Get a map at the Visitor's Centre
2. Shop in Myeong-dong's drug stores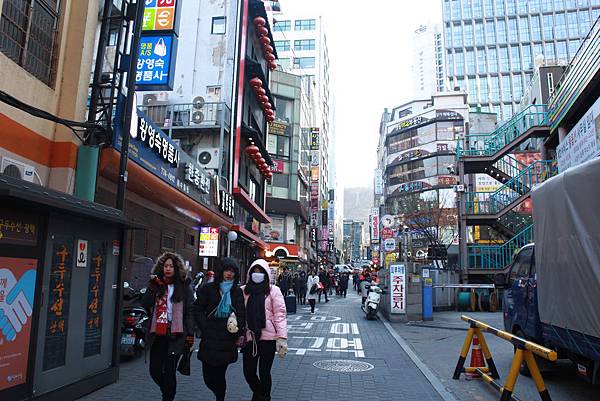 Myeong-dong, Seoul
Addicted to buying masks? Can't keep your fingers off 3CE make up products? Beauty lovers, you absolutely cannot miss this heaven on earth! Myeong-dong houses brands popular amongst Singaporeans like Innisfree, Balina Co and Etude House. Skin care or make up products, you can be sure you'll find whatever you're looking for in this shopping street!
Don't be overwhelmed by the endless promotions (typically one-for-one price deals) available. Myeong-dong is probably the only place in Seoul you can expect to find the best price in the first shop you enter. Approach the friendly shopkeepers for advice if needed; they are well-versed in several languages like English, Chinese and Japanese.
Who knows, they might throw in more freebies for you after striking up a conversation! Yes, FREE! Unleash your kiasu Singaporeans roots at this point because some shopkeepers will give you freebies and samples only when asked.
How to get there : Seoul Subway Line 4, Myeongdong Station, Exit 5, 6, 7 or 8
Tip : The money changer is pretty reasonable here so don't worry if you run out of Korean won while shopping.
3. Watch Gyeongbokgung Palace's guard changing ceremony
Guard Changing Ceremony at Gyeongbokgung
If Gyeongbokgung Palace is part of your itinerary, look out for their guard changing ceremony. The ceremony is one of the rare reenacting of the traditional scene traced back to 1469 during Joseon Dynasty.  Nowadays, the ceremony is still performed exactly as how it used to be 549 years ago!  Don't miss this precious opportunity to see the guards in vibrant costumes, carrying weapons and playing instruments in traditional manners.
How to get there : Seoul Subway Line 3, Gyeongbokgung Station, Exit 5 or Seoul Subway Line 5, Gwanghwamun Station, Exit 2
Tip : The below timings are valid for 2018. The changing ceremony takes place twice per day except on Tuesday, and could be cancelled due to poor weather. 
Sumunjang (Royal Guard) Changing Ceremony
Twice per day (10am, 2pm), 20 minutes per ceremony
Gwanghwamun Gate Guard-on-Duty Performance
Twice per day (11am, 1pm), 10 minutes per ceremony
Sumungun (Gatekeeper) Military Training (outside Hyeopsaengmun Gate)
Twice per day (9:35am, 1:35pm) 15 minutes per ceremony
4. Wear gatekeepers clothes outside Gyeongbokgung Place for photos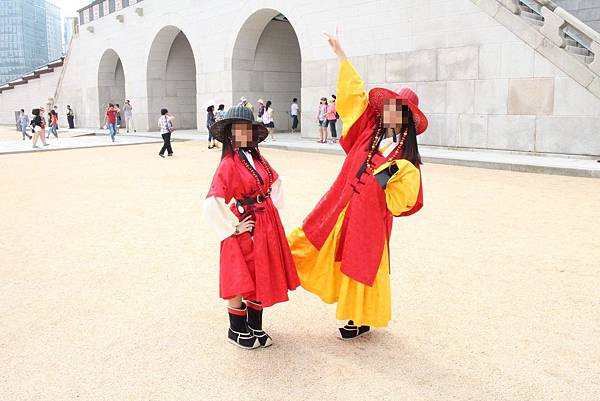 Tourist in gatekeepers clothes outside Gyeongbokgung
After watching the guard changing ceremony, head to the right side of the 'hanbok experience zone' to try on some gatekeepers clothes for free! Yes, completely free!
Tip : Register for the experience immediately after the guard changing ceremony to skip the long queues!
5. Buy snacks from Lotte Mart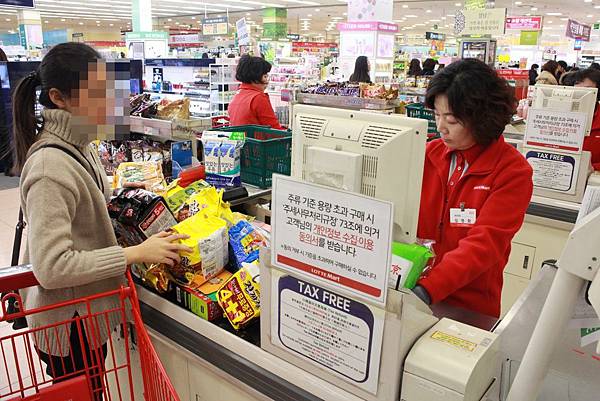 Cashier at Lotte Mart
Everything you can find in South Korea is right here in Lotte Mart! Expect to find an assortment of goods like cookies, candies, food etc. readily available. Located conveniently at Seoul Station, the huge supermarket even has a few beauty stores within for you to do any last minute beauty hauls.
How to get there : Seoul Subway Line 1 or 4, Seoul Station, Exit 1
Tip : They provide cartons for crazy shoppers so buy whatever you want there!
6. Take a cable car ride to Namsan
Enroute to Namsan via cable car
How can you say you've been to Seoul if you don't visit Namsan?! There are three routes with varying level of difficulties to this ridiculously photogenic place – the toughest being a strenuous hike up the steep slopes followed by taking a relaxing walk via an alternative route and lastly, taking a cable car up the mountain. If you want to look good for your ootd(s)… The choice is clear!
How to get there : Seoul Subway Line 4, Myeong-Dong Station, Exit 3. After exiting the station, walk down the street on the right side of Pacific Hotel for 15 minutes. 
7. Binge on sumptuous street snacks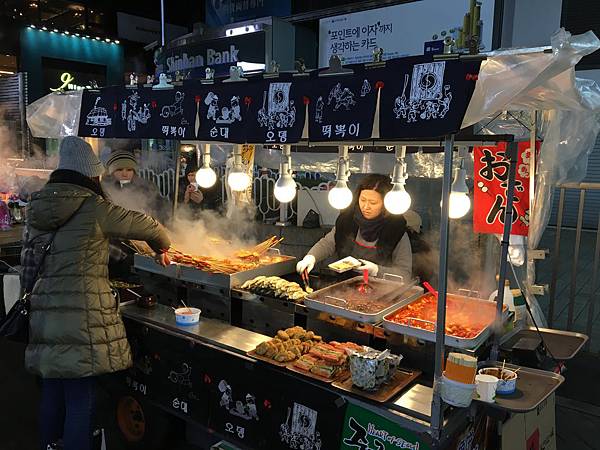 Street food stand
You'll never starve to death in South Korea. Firstly, they have more 24/7 stores than we do in Singapore. Additionally, most of their street vendors are opened till the middle of the night. Don't underestimate those flaming red or midnight black tidbits because they may just be the best supper you treat yourself to this holiday! Enjoy a bowl of warm rich soup along with some tteokbokki (spicy stir-fried rice cakes) and gimbap (seaweed rice rolls) in the chilly winter to complete your Korean street feast experience.
8. Take hipster shots with Common Ground's iconic blue cargo containers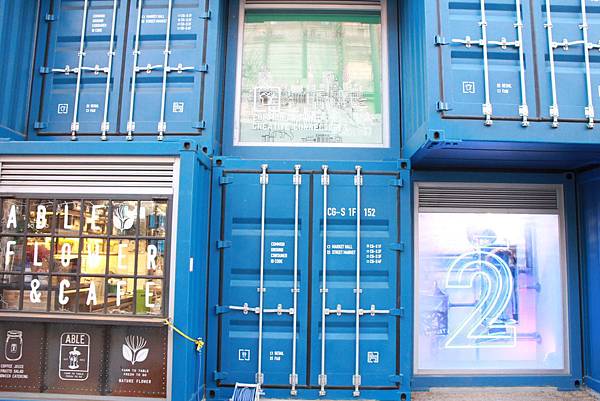 World's largest cargo container shopping mall, Common Ground
Both locals and tourists alike flocked to this mall immediately after its opening in April 2015. Dubbed as the world's largest cargo container shopping mall, Common Ground caters to shopaholics with several trendy fashion brands and its cafes provide respite for those tired after a long day of shopping. Psst, leave your boyfriend in one of their cafes if he complains about shopping. Before you leave, remember to take an ootd at their picturesque cargo containers!
How to get there : Seoul Subway Line 2 or 7, Konkuk Univ. Station, Exit 6
9. Underground shopping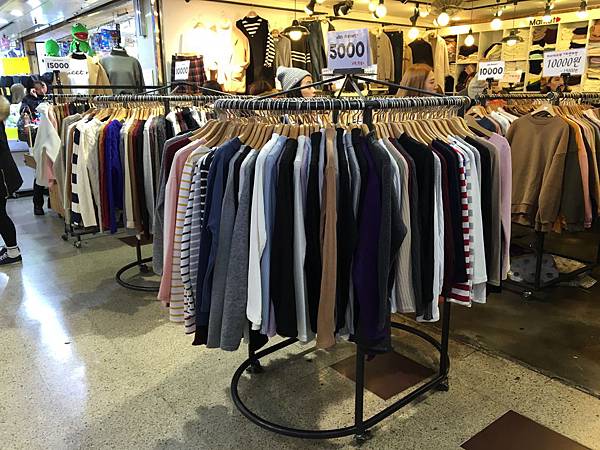 Underground shopping malls in Seoul
Still feeling the need to shop after combing through Dongdaemun? Or is the rain dampening your spirits? Fear not, nothing can stop us shopaholics! There are several underground malls you can visit, rain or shine. The better known ones are Goto Mall, Yeongdeungpo Underground Mall, Gangnam Terminal Underground Shopping Center, Jamsil Underground Shopping Center and COEX Mall. Go ahead, shop till you drop! For more guidance on shopping in Seoul, check out our article here.
10. Buy traditional art and souvenirs at Insadong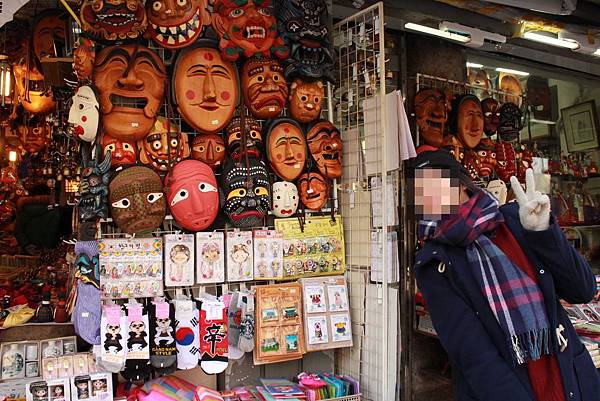 Shop selling bizarre masks in Insadong
Wide the wide array of bizarre masks hanging at shopfronts in Insadong, it's hard to not stop in your tracks to get a second look at this fascinating street. If you have deep passion for traditional art pieces and crafts, wander through Insadong and you may find yourself walking away with a unique gift.
How to get there : Seoul Subway Line 3, Anguk Station, Exit 6 or Line 1, Jonggak Station, Exit 3
11. Korean spicy noodle challenge
Other than fried chicken and a bottle of good ol' Korean beer, the next essential is a bowl of Korean spicy noodle. How can you miss out THE authentic Korean spicy noodle experience! Forget your favourite Laksa stall in Singapore, the spicy noodles in Seoul are guaranteed to leave you tearing and your lips red and swollen but the spiciness goes soooooo well with your fragrant noodles that you won't be able to stop.
12. Shop near Ewha Womans University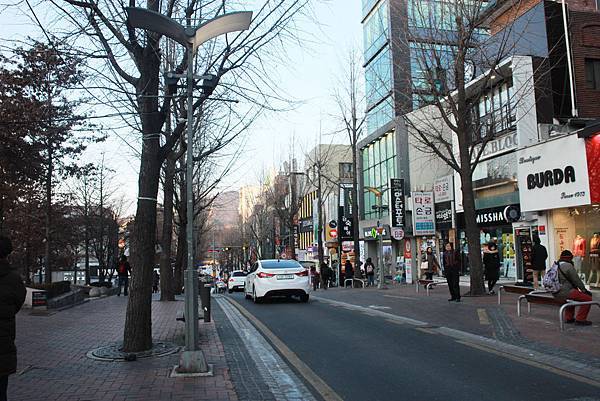 Street with shops near Ewha Womans University
Ladies, this one's for you! Due to its proximity to Ewha Womans University, this street is meant to be a paradise for women. Filled with innumerable amount of shops to cater to different personalities, there's lost of shopping to be done here in fashion labels, shoe shops, drugstores and even standalone stores. Feeling jaded from all the shopping? Head to one of the many specialty cafes there to rest your tired legs!
How to get there : Seoul Subway Line 2, Ewha Womans University Station
13. Savor Korean ginseng chicken soup at Tosokchon
No matter how ridiculously long the queue is, the Korean ginseng chicken soup is a classic must-try when you're in Korea! A sip of the delicious chicken soup will warm your soul and you'll realize that the wait is so worth it.
How to get there : Seoul Subway Line 3, Gyeongbokgung station, Exit 2
14. Visit Dongdaemun Design Plaza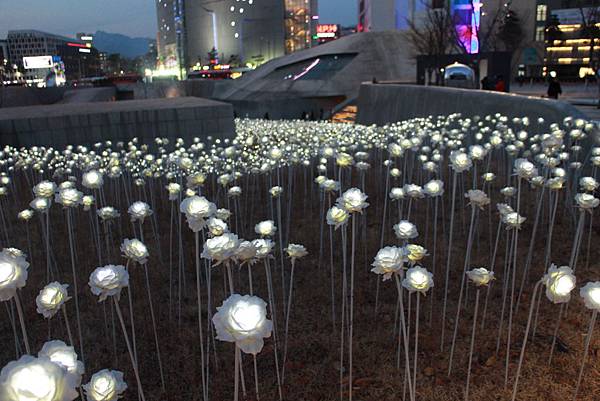 Dongdaemun Design Plaza
Regarded as one of the newer popular attractions amongst tourists, you'll grow to appreciate the exhibitions and occasional cultural events on display at Dongdaemun Design Plaza even if you're not a designer.
How to get there : Seoul Subway Line 2, 4 or 5, Dongdaemun History & Culture Park, Exit 1
15. Watch SM Town's K-idols performances
SM Town Roadshow Banner
Fans of K-pop can't miss this! Take a tour around Korea's largest dance studio to better understand your favourite K-idol's daily routine. Better yet, learn some new moves experience the daily life of a trainee with this Real K-Pop Dance Studio Class!
How to get there : Seoul Subway Line 2, Samseong Station, Exit 6 or Line 9, Bongeunsa Station, Exit 7
16. Rest your feet in Cheonggyecheon Stream
Cheonggyecheon Stream
Roaming downtown may wear your feet out, especially with the steep slopes in Seoul, but don't fret! Head to Cheonggyecheon Stream, where you'll catch parents playing with their children and couples taking a walk along rows of neon lights. With the gentle stream flowing, it's the perfect place to unwind and people-watch. When you're ready to get up and go again, there are numerous art galleries, museums etc. nearby, making it a prime location for a cultural journey.
How to get there : Seoul Subway Line 1 or 2, City Hall Station, Exit 4
17. Eat traditional Korean snacks in Namdaemun Market
Namdaemum Market near Myeongdong
Just a short distance away from Myeongdong, Namdaemun is a large traditional market with its own charm. Not only are the things cheaper, you can bargain with shopkeepers should you buy in bulk! Namdaemun Market is the secret to buying, or even cooking, an authentic Korean meal.
How to get there : Seoul Subway Line 4, Hoehyeon Station, Exit 5
18. Idle in a lovely cafe
Ice Cream Waffles in a Cafe in Seoul
Notice how there are more cafes than convenience stores in South Korea? A huge contributing factor is that South Koreans love their coffee – walk into any cafe, order a cup of cappuccino for yourself and it almost never goes wrong! The welcoming atmosphere makes it an ideal place to hang out with your best buddies on a lazy afternoon. For Instagram-lovers, we present you the most Instagrammable cafes you must visit in Seoul.
19. Andong stewed chicken (Highly recommended!)
Ingredients to the mouth-watering stewed chicken? Aromatic condiments, a mixture of potatoes, carrots and onions, and top it off with Korean stir-fried noodles. Of course, this is just one of the many food you HAVE TO try in South Korea – other tasty food includes snow soup, Korean barbecue, noodles, fried rice cakes and the list goes on.
How to get there : Seoul Subway Line 4, Myeong-dong, Exit 6 or Line 2, Euljiro 1 (il)-ga, Exit 5
20. Midnight stroll along Dongdaemun Market
Dongdaemun Market at midnight
The rising prices caused by inflation don't stop tourists from flocking to Dongdaemun Market – for a good reason too! Dongdaemun Market is practically a ghost town in the morning but when the sun sets, the hustle and bustle of Seoul's city life consumes this street.
How to get there : Seoul Subway Line 2, Dongdaemun History & Culture Park, Exit 2 or 14
Other than the 20 places we mention, there are loads of other attractions for you to explore in Seoul. You'll run out of time but not places to visit in this buzzing city.
Shoppaholics, Seoul is the perfect place for you!
For more things to do in Seoul:
–
Article originally from Tripzilla.