Eager to travel to South Korea but don't think you have the money? Don't scare yourself out of a great adventure! If you do your homework, you can spend an entire week in Seoul with less than US$750. 
Flights
The biggest budget hit will probably be your flight. Basic airfare can cost half your budget, even without all those extra fees and commissions.
However, there's a lot you can do to cushion the blow. You just have to:
Be Flexible. Compromise on things like: date, airline, and number of stopovers. You can save almost 70% by flying off-season or on weekdays; even more if you book over six months in advanced.
Compare, compare, compare. Don't limit yourself to budget airlines and check out promo fares!
Crunch the numbers yourself. Travel agencies cash in on your impatience. All those extra fees go towards paying someone else to crunch the numbers for you.
You can find the best deal if know where to look. Skyscanner is a completely free and comprehensive search engine that scours deals and offers from hundreds of airlines and online travel agents.
Sometimes small things such as departure time and journey duration can save you hundreds of dollars. Make sure you also explore the price alerts and cheapest month options within the app.
Estimated Budget: US$272.81 to S$368.66
Airport Shuttle
So you've finally landed in Korea! Don't waste time, money, and energy hailing a cab to your hotel.
The AREX Airport Express Train will take you from Seoul Incheon Airport to downtown Seoul in less than 45 minutes. This option is particularly convenient for travelers carrying lots of luggage.
Estimated Budget: US$4.42 to S$5.90
Accommodations
Next to your flight, lodging will eat up the biggest chunk of your budget. The cost of each night will quickly add up, so try and limit your amenities to the essential. Don't spend on parking if you plan to just take the train.
You can also filter based on location, as some neighborhoods are much cheaper than others. Check out the extensive listings on Skyscanner, which lets you you view facilities, meal plans, and district locations.
Estimated Budget: US$73.73 to US$88.48 for 7 nights (roughly US$11.06 to US$14.75 per night)
Sights and Attractions
You can be as creative and adventurous as your budget will allow you, but we recommend hitting up Everland Theme Park, visiting the N Seoul Tower, renting yourself an authentic Hanbok, and watching a live performance.
Everland Theme Park
Everland is Korea's largest and wildest theme park where you can scream your head off with the world's steepest wooden roller coaster! Purchase a Q Pass for access to: T Express, Lost Valley, Amazon Express, Safari World, and Panda World.
Discounted Ticket Cost: US$31.70
N Seoul Tower
The best way to see Seoul is from above. The Namsan Seoul Tower, also popularly known as the 'Symbol of Seoul,'  rises from the green hilltops of Namsan Park to sit just at the edge of the city. Enjoy the sunset over the city skyline with a 360-degree panoramic view from the observatory.
Discounted Ticket Cost: $6.64
Authentic Hanbok Experience
What's a vacation without a good photo to post? The Hanbok is a traditional Korean dress normally used as formal wear for traditional festivals and celebrations. Rent one on your trip to add a pop of color to your Instagram feed!
Discounted Rental Cost: US$15
JUMP SHOW: Comedic Martial Arts Show
Martial Arts are often seen as serious and dangerous, requiring years of intensive training and discipline. This incredible comedy show breaks barriers of all kinds, and will leave you both in stitches and in awe.
Discounted Ticket Cost: US$21.38
If you're out to make the absolute most of your trip, you can check what else you can do to fill in your days: 20 Things You Must Do On Your First Trip to Seoul
Transportation
Seoul's Metro Rail System is enviable world wide, and is the best way to get around. Purchase the  T-Money Public Transit Card, which you can load up at any convenience store or subway station. Bonus: you can also use the card to pay for stuff at selected shops!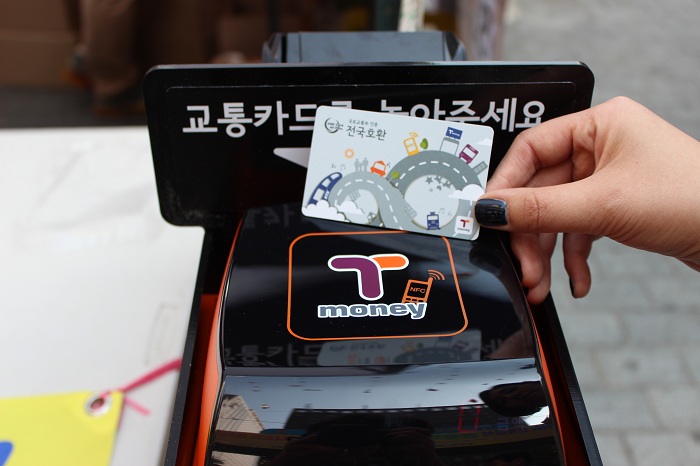 Estimated Cost: US$ for the card, and about US$36.87 to USS$66.36 worth of credit
Food
Skip overly-hyped (and overpriced) restaurants and go explore Seoul's massive selection of street markets, inexpensive cafes, and Korean Barbecue joints (READ: 5 Must Try Foods in Korea).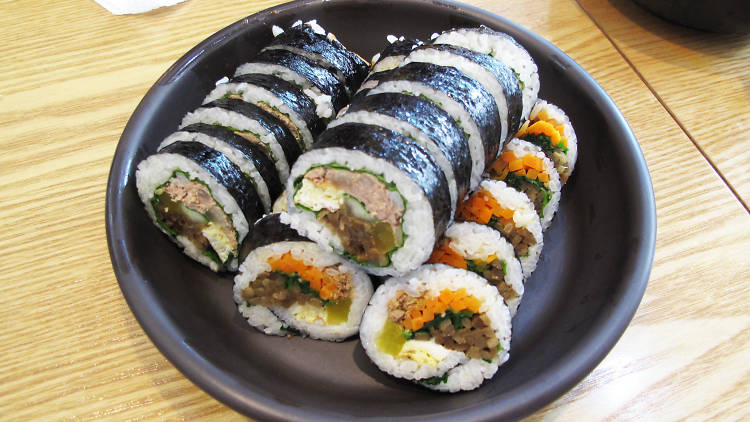 We recommend Mapo Mandu for their Galbi Mandu (US$2.65), Hansot Dosirak for a filling bento box (US$2.21 – US$8.85), and Seoho Gimbap for the original gimbap (US$3.24).  Read up 7 Cheap and Delicious Meals in Seoul on our blog, and be sure to check out Myeong-Dong Market for all sorts of street eats.
Estimated Budget: US$16.96 per day or US$118.71 for 7 days
We've estimated on the high side, so everything comes down to about US$719.62. There's a lot more to see and do in the wonderful city dubbed 'The Miracle of the Han River.' Keep posted KKday for huge giveaways; check out the lucky winners of our Skyscanner and KKday promo here.