Cairns might be small but it certainly is mighty when it comes to activities for one and all. Naturally, this includes romantic things to do in Cairns. Whether you need to plan a date or gain major romance points by organising something special, we have you covered with this list of 5 love-inspiring experiences.
MIssion Beach Skydive Experience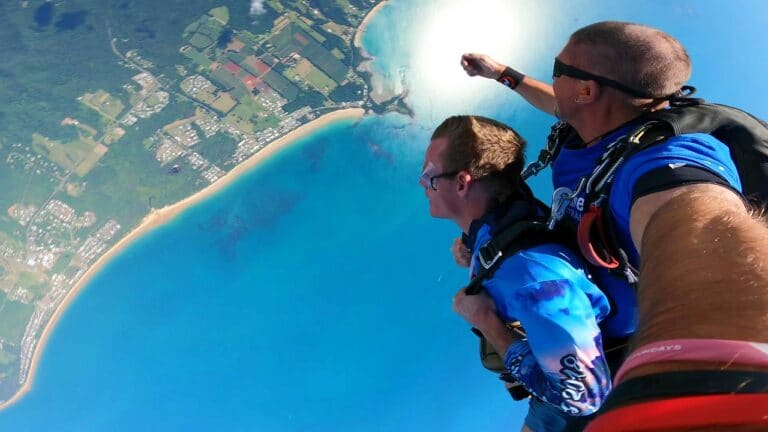 Located a short-ish two hours from Cairns, the beautiful Mission Beach boasts fine white sand, the odd Cassowary bird, and a heart-thumping skydive experience. Get your thrill on and jump out of a plane with your better half.
Rise up to 4.5km then plummet back down to earth at a teeth-chattering 200km/h. Once your feet is on firmer ground, Mission Beach borders Djiru National Park and its Main Street has cafes aplenty. Furthermore, if you are jumping on a sunny day, you might be able to stop by a local market for a relaxing stroll post-dive. Take your relationship to new heights by bringing your partner on one of the most exciting things to do in Cairns.
Fees: Dive over Mission Beach from AUD $269 (mid-week).
Cairns Hot Air Balloon Tour
Watching the sunrise has always been a fool-proof romantic experience. While it is difficult to imagine anything more intimate, throw in a hot air balloon flight and you would have made sunrise watching even more romantic.
Located just half an hour from Cairns, Atherton is nature's wonderland and look spectacular from the air, in the early morning glow. Imagine taking off just as the sun breaks the horizon and watching the golden orb rise as you float up together with it. Talk about romantic things to do in Cairns, nothing says it better than a hot air balloon ride at dawn.
Fees: Float above Atherton Tablelands for AUD $390 per person. If you require a private flight, you can book here from AUD $2495 per booking.
Low Isles Cruise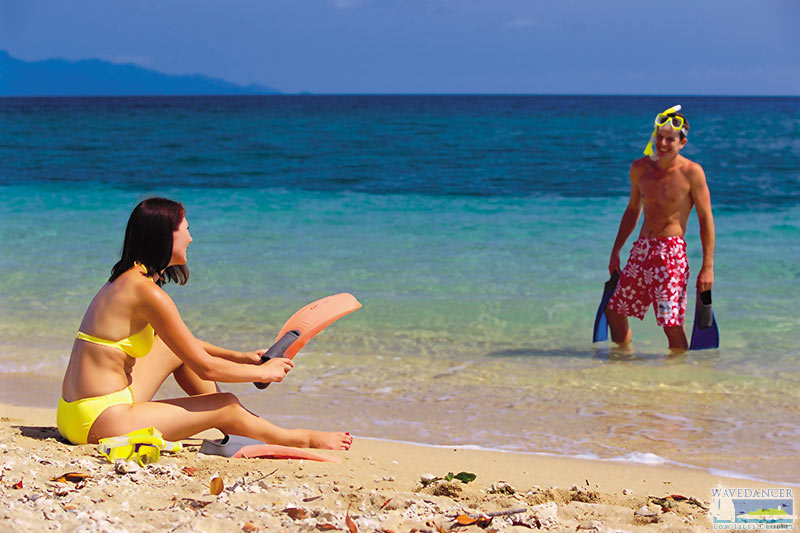 Departing from Port Douglas, the Wavedancer, a sailing catamaran will take you along the Great Barrier Reef lagoon to Low Isles island. Enjoy the wind in your hair while the crew gives marine presentations and snorkelling instruction.
Once on the island, you can choose to relax at the beach, snorkel in the crystal waters, or board the glass-bottom boats to view the corals. With lunch and afternoon tea provide aboard the Wavedancer, you can spend the trouble-free day playing in the sun. Bask in the beach vibes with one of the more natural romantic things to do in Cairns.
Fees: Sail the Great Barrier Reef lagoon from AUD $226 per person.
Kuranda Skyrail and Scenic Rail – Gold Class Service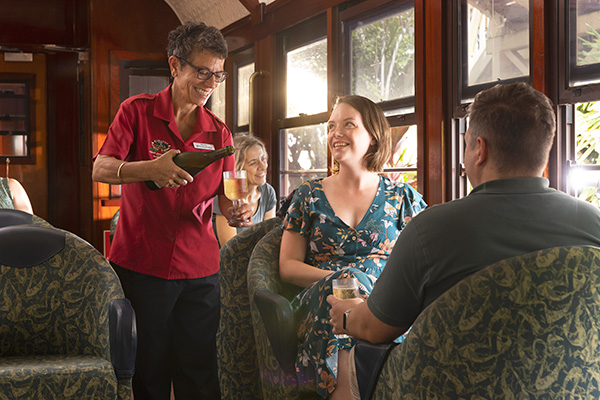 Experience the iconic Skyrail Cableway and Kuranda Scenic Railway differently. Add a touch of class to your date by booking the Gold Class experience on the Kuranda Scenic Railway. Get spoilt with appetisers, welcome drinks, and a beautiful refurbished historical carriage.
Take in the spectacular Kuranda rainforest while relaxing in the cable car as it makes its way down to Barron Grange. Explore the rainforest, Kuranda Village, and gaze at the majestic Barron Falls. Finally, put your feet back up (not really, you'd get in trouble) as you make your way back in luxury to Freshwater station. Your better half will feel like a VIP, being waited on in this classic railway experience.
Fees: Ride the railway in Gold Class for AUD $200 per person.
Couples Therapy at Eléme Day Spa
A couple that spas together, stays together! Let Eléme Spa take away the stresses of everyday life for you and your loved one. If you're looking for relaxing romantic things to do in Cairns, you need to stop by Eléme Day Spa to relax and unwind. Their Couples Therapy program facilitates the rejuvenation of body and soul.
Choose to be pampered for an hour, ninety minutes, or a hundred and fifty minutes. Follow the indulgence with a complimentary glass of champagne to cap off your luxurious afternoon. Restore your energies with an afternoon at the spa.
Fees: Spa together from AUD $145 per person.
There are just so many things to do in sunny Cairns, many of which are perfect for a date. For more ideas and deals, head over to KKDay and book your experiences today!