Cairns is at the very top of Queensland in Australia's North-Eastern region. As such, the climate tends to be tropical year-round. You can just imagine a holiday that surely entails some fun in the sun! Here, we compiled the top 5 attractions in Cairns you can visit to take full advantage of the gorgeous weather!
Getting Around Cairns
Cairns, being smaller than Brisbane, has a public transport system than operates predominantly on buses. The go card payment system used in Brisbane and Gold Coast is not available in Cairns. Because of this, tickets must be purchased on the bus with cash and fares are calculated via zones travelled.
There are eleven zones in Cairns with its CBD (zone 20) being treated as a special zone on its own. It can get somewhat confusing hence, you are encouraged to plan your journey prior to heading out. However, utilising public transport is still an efficient way to visit the attractions in Cairns.
Cairns
Kuranda Scenic Railway and Skyrail Rainforest Cableway
Skyrail Rainforest Cableway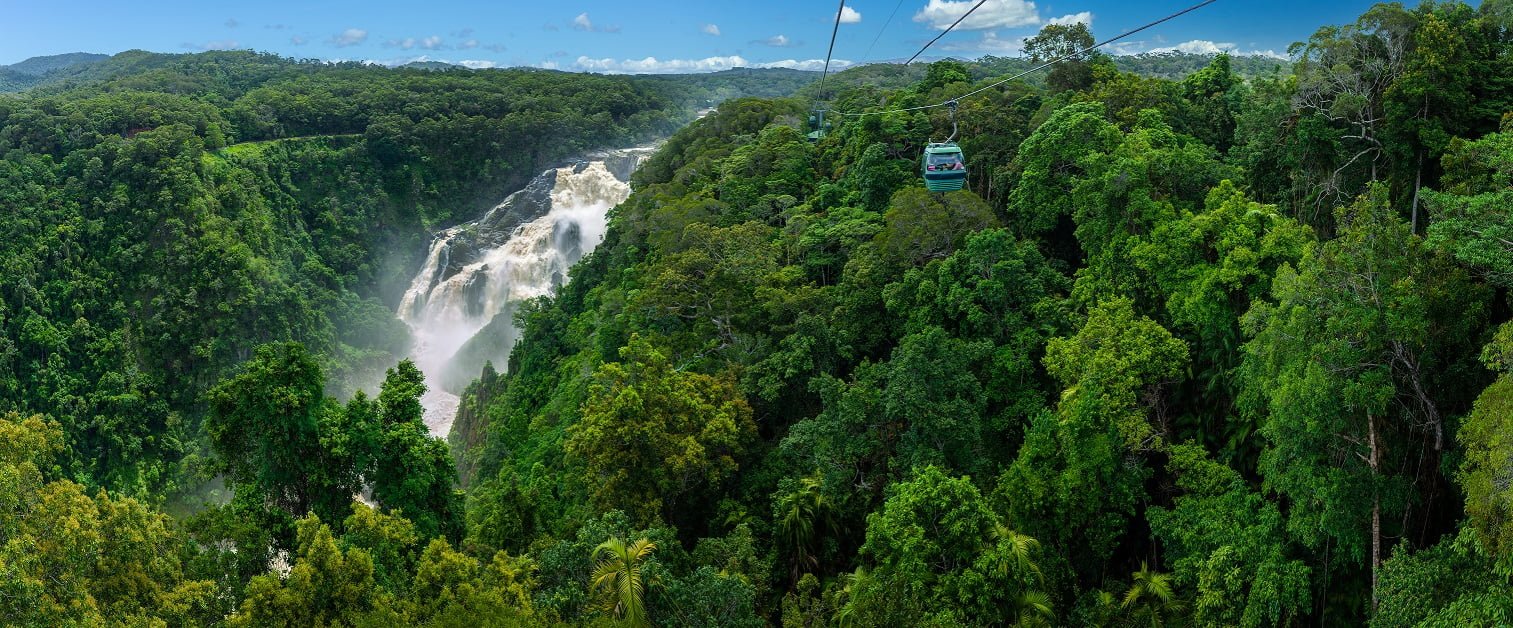 Australia is a land with many breathtaking sights; one of which is the view of the world's oldest rainforest from Skyrail Rainforest Cableway and the Kuranda Scenic Railway. This World-Heritage-listed rainforest hides a 125m cascading waterfall, Baron Falls. Riding the Skyrail down from Smithfield Terminal, the first pit stop in the middle of the rainforests takes you along a guided tour on a nature boardwalk. Lose yourself amongst the unique and thriving ecosystem of flora and fauna. Hop back on the Skyrail to the next pit stop to gaze in awe at Barron Falls. The last stop of the Skyrail journey lands you at Kuranda Terminal which is a short free shuttle to the 100-year-old Kuranda village also known as "The Village in the Rainforest".
Kuranda Scenic Railway
Kuranda Scenic Railway takes you from Kuranda back to Cairns in one and a half hours, through the lush and regal rainforest. Relaxing in a refurbished authentic Heritage carriage, you can enjoy hearing nature call and appreciate that you are travelling on a 131-year-old railway. This is a fact that any train enthusiast will find fascinating. If you do have one of those in your family, including the Kuranda Scenic Railway in your itinerary might just be the ticket.
Fee: Tickets for the Skyrail Rainforest Cableway and Kuranda Scenic Railway including a one way pick up is AUD $121 for adult and AUD $66.50 for child.
Hartley's Crocodile Adventure
You've never been to Queensland if you've never seen a croc! Hartley's Crocodile adventure is one of Cairn's oldest running tourist attractions and you are sure to meet a crunching crocodile there! Do you have a hankering to see crocodiles attack or are you raptured by reptiles? Have you always wanted to feed a hungry crocodile? Hartley's gives you that chance to fulfil those heart's desires. Take a twenty-minute cruise down a crocodile-infested lagoon and watch as the crocodiles jump out of the water. You'll be in for an exciting, nerve-wracking time at Hartley's Crocodile Adventure.
Fee: General admission including one boat ride and return transfer to Cairns for families is AUD $283 (2A + 2C).
Paronella Park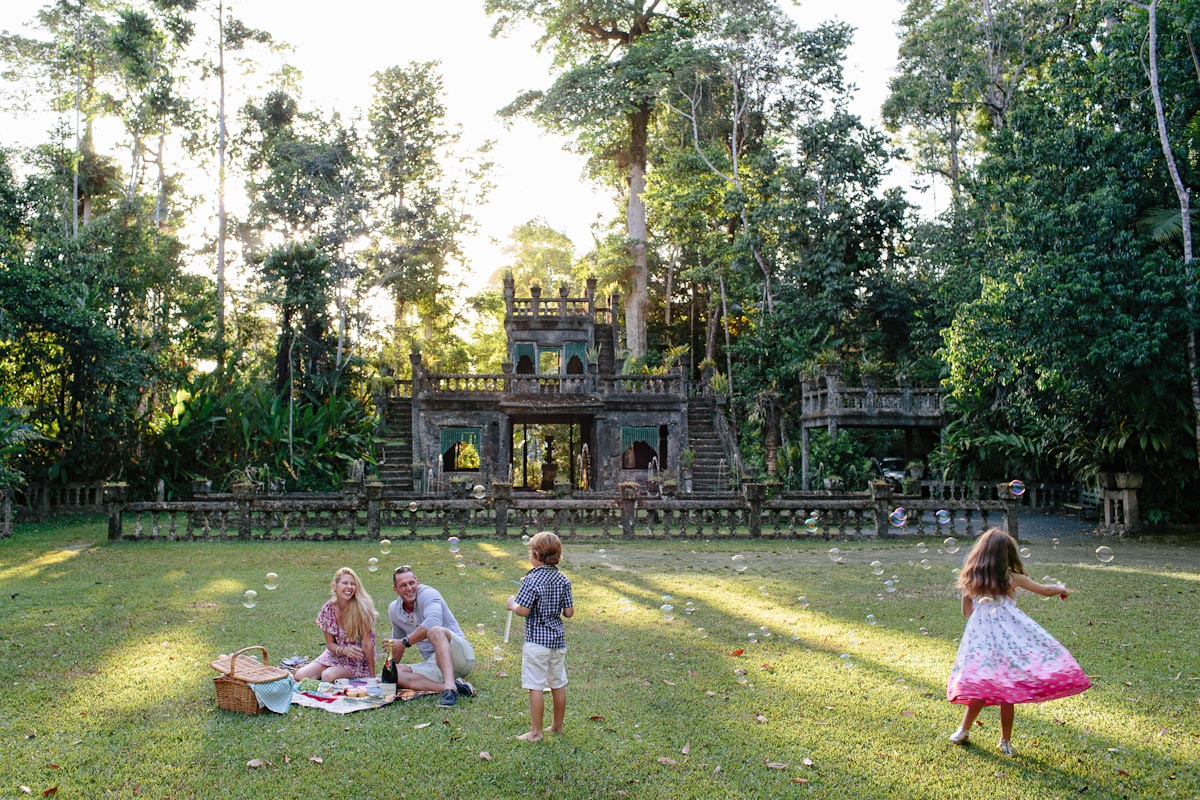 Have you ever wanted to step back in time? A trip to Paronella park will take you back to the 1930s when José Paronella purchased thirteen acres of land and began building his legacy. Upon entry, visitors are taken on a tour highlighting the park and the history of José's dream.
After the tour, you are free to wander the gardens and admire the lush greenery, the preserved Heritage buildings, and even the restored 1930s hydroelectric generator. After which, you are encouraged to stay till evening to view the park through the lens of a sound and light display. Come spend a relaxing day in the historic Paronella Park and appreciate the past a little bit more.
Fee: General admission for families is AUD$152 (2A + 2C). Admission includes the day and night tour and a guidebook. Moreover, tickets are valid for 24 months.
Quicksilver Great Barrier Reef Tour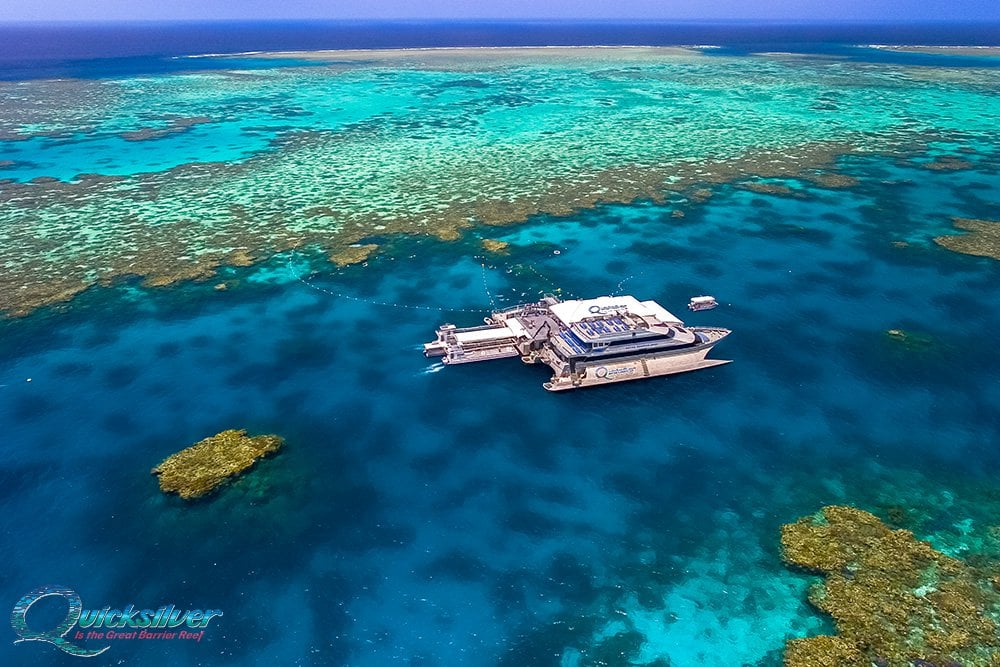 At last, a tour to the world-famous Great Barrier Reef. If we are checking off a bucket list, this attraction should be somewhere near the very top. Departing from Port Douglas, Quicksilver cruises will take you to Agincourt Reef, a ribbon reef adjacent to the Coral Sea trench. The deep ocean water fuelling the reef aids in the development for healthy corals and marine life.
You will be onboard a wave-piercing catamaran ensuring that the journey is smooth and luxurious. Moreover, morning tea, afternoon tea, and lunch as also provided. Once at the reef, you can choose to observe the underwater world through their semi-sub, an underwater glass-walled boat that tours around the reef.
On the other hand, you can remain on the platform in an underwater glass-walled observation deck and view the wondrous ecosystem around you. Not to mention the divers, snorkelers and ocean walkers in the tour group. This tour is truly a "once-in-a-lifetime" attraction in Cairns.
Fee: Cruise fare including an underwater observatory, semi-sub tours and return transfers from Cairns is from AUD $319 for adults and AUD $167 for children.
Website: quicksilver-cruises.com
Brisbane to Cairns
On the other hand, getting from Brisbane to Cairns is much simpler. The first option is a no-brainer, really; you fly. It is a four-hour flight with any number of domestic airlines. Not only is it the quickest option, it is also the cheapest one with a round trip ticket from AUD $175.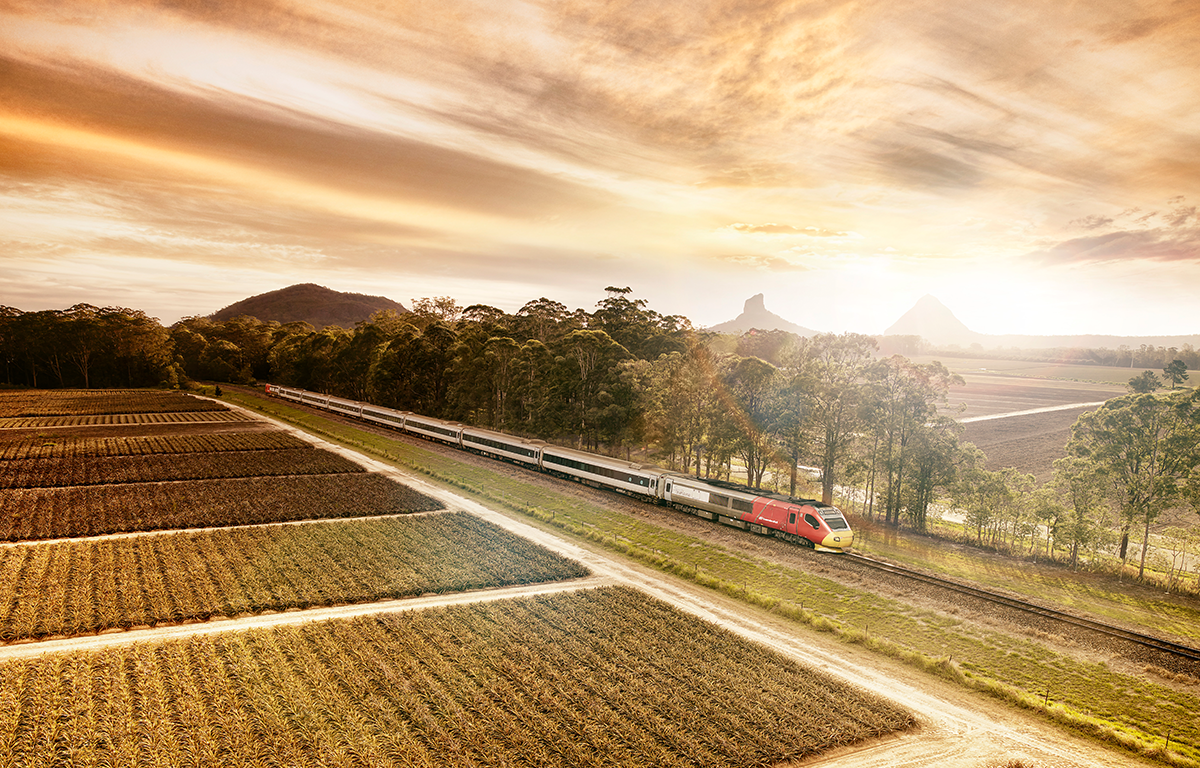 If you prefer something a bit different, you can consider embarking on a twenty-five-hour journey by rail on Queensland Rail's Spirit of Queensland. The train boasts a café, toilets and showering facilities. Furthermore, each seat is decked out with on-demand entertainment, reclining back, power point, light, and tray table. The entertainment, of course, will come in handy when the little ones get board of the rolling scenery. Tickets start from AUD $222 for the economy seat to Cairns from Brisbane.
For more great Aussie adventures, head on over to KKday now!